Fegari All-in-One Solar LED Street Lights
Fegari all-in-one solar LED street lights constitute the most innovative, cost-effective and elegant solution to illuminate public and private spaces such as streets and intersections, markets and public squares, industrial and military compounds, border checkpoints and bus stops. Wherever there is no reliable pre-existing electrified street light infrastructure, all-in-one solar street lights are the best option for illumination.
key features
LED lights for maximum brightness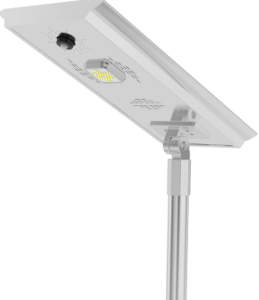 High efficient solar panel
Certified for CE, ROHS, IP65
control your light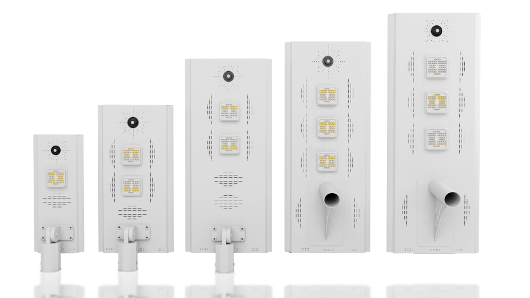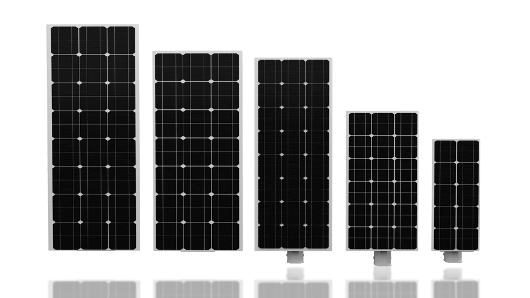 Extreme long life LEDs
Our High quality LED are designed to last for over 100.000 hours in harsh weather conditions, thanks to its waterproof design and thorough quality control.
Ultra-efficient LED lights for maximum brightness
High brightness and low light decay: Customised LM80 Nichia LED are used in Fegari Lamps which achieve an unmatched 210LM/W efficiency.
40% more illumination
Our patented special light distribution lenses vastly improve the illumination area. Compared with competitor products, illumination area is increased by 40% , and illumination uniformity is improved by up to 170%.
Powerful Battery
Best-in-class Level A LiFePO4 batteries are used by Fegari. It features not only up to 7 times' longer lifespan than lead-acid but also has unique charging depth protection.
Mono-crystalline Solar Panel
Fegari lamps use custom-tailored US Sunpower mono crystalline solar panels as powering source. Its 24% charging efficiency is significantly higher than standard mono crystalline (17%) or polycrystalline panels.
Motion Sensor
Fegari lamps come complete with a built-in motion detection system that automatically regulates the light source from full bright (100%) to the energy saving output (15%) to increase battery autonomy if needed or preferred.
why choose us
Fegari lamps offer high quality solar powered LED light solutions with unparalleled warranties at competitive prices. Extensive research, the best components, and extremely stringent and thorough manufacturing processes in Dresden, Germany assure that the Fegari All-in-one Solar LED Lights are offering optimal solutions for our customers. Fegari Lamps excell in terms of guaranteed lifespan, quality of light delivered and options for customization and adaptation.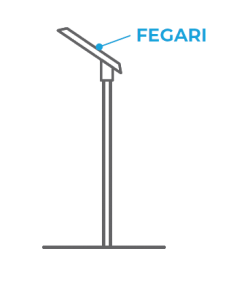 Easy and trouble free installation
Minimal maintenance
Theft proof
Lower maintenance costs
Extremely long life span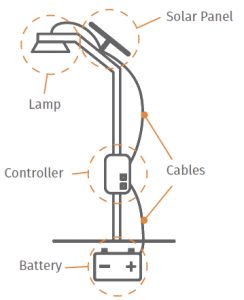 Complex and expensive to install
Requires engineer to install and maintain
High probability of failure
Expensive maintenance costs
Batteries and controller prone to theft
power up!
Fegari street lights are always tailored to the specific needs of the client, offering a wide range of additional features (i.e. special industrial standards, different performance specifications, or features such as video-surveillance, Wifi hotspots and mobile device charging).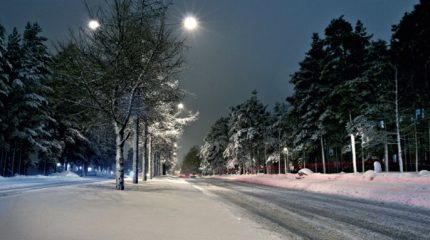 street lighting
rural & hard-to-reach areas
special events
emergency response
construction & work sites
security lighting
military applications
parking areas
install your fegari light
Fegari products are known for their ease of installation. Under most circumstances, installing our solar LED street lights is a very simple process and takes less than five minutes to complete.
Use 4 screws to fix the support on the lamp and fix the lamp on the pole. The lamp has an on/off switch. Turn the lamp on and it works.
Standard solar LED street lights take usually 3-4 hours to assemble. Fegari Lamps cut costs and reduce the risk of failures due to inadequate installation.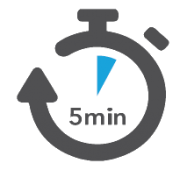 select your model
| | |
| --- | --- |
| LED Watt | 15 |
| Solar Panel (W) | 30 |
| Lithium Battery (WH) | 192 |
| Luminous Flux |  2400- 2550 |
| Color Temperature | 6000- 6500 |
| | |
| --- | --- |
| LED Watt | 20 |
| Solar Panel (W) | 50 |
| Lithium Battery (WH) | 256 |
| Luminous Flux | 3200- 3400 |
| Color Temperature | 6000- 6500 |
| | |
| --- | --- |
| LED Watt | 30 |
| Solar Panel (W) | 70 |
| Lithium Battery (WH) | 320 |
| Luminous Flux | 4800- 5100 |
| Color Temperature | 6000- 6500 |
| | |
| --- | --- |
| LED Watt | 40 |
| Solar Panel (W) | 100 |
| Lithium Battery (WH) | 448 |
| Luminous Flux | 6400- 6800 |
| Color Temperature | 6000- 6500 |
| | |
| --- | --- |
| LED Watt | 50 |
| Solar Panel (W) | 120 |
| Lithium Battery (WH) | 512 |
| Luminous Flux | 8000- 8500 |
| Color Temperature | 6000- 6500 |