Richard Labelle
Sector Expert | Information and communications technology (ICT)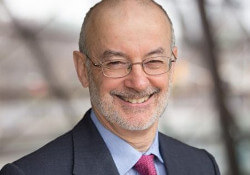 E-government and e-commerce

Organisational e-development

Cleantech, Green Growth

Disruption (fintech, cybersecurity, startup)
M.Sc. Plant Physiology Queen's University, Canada

B.Sc. Honours Biology, Chemistry, Queen's University, Canada
Richard Labelle has over 34 years of experience working on the use of information and of information and communication technologies (ICTs) as tools for development and poverty eradication. He has undertaken over 100 missions in 58 developing countries including work undertaken as the main expert advisor of a UN program which helped to introduce the Internet to over 45 developing countries. He has lived 9 years in Nairobi Kenya where he worked as an information and knowledge manager for what is now the World Agroforestry Centre.
Mr. Labelle has worked with UNDP, the World Bank, UNCTAD, ITU, UNICEF, the EBRD, IDRC, the IISD, the CGIAR and bilateral agencies (CIDA/GAC) and private sector firms. He is particularly familiar with the impact that disruptive digital technologies have on trade, livelihoods and sustainability (cleantech, smart-tech) and on development. Some of his recent work has involved assessing the impact of e-commerce on development in South Asia and as a contributor to the Egypt e-commerce strategy as well as work on the use of ICTs in the WASH sector and the role of ICTs for climate action.
He brings experience in assessment, development and the implementation of strategic plans for ICT use (e-government and e-commerce) for poverty reduction, and for enhancing democratic governance, pro poor and inclusive Green Growth, commerce, competitive advantage and human development to achieve the post 2015 development goals through the use of modern management practices and technologies with a focus on ICTs. Experienced in business process analysis (BPA) for management and organizational efficiency, for organizational re-engineering and for business transformation (e-government, e-commerce). He is very active on social media on issues related to ICTs, cleantech and disruption (fintech, IoT, cybersecurity, lean startups, etc.).