Azam Salimov
Regional Manager | Central Asia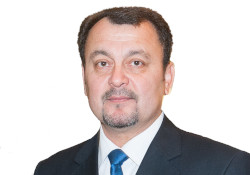 Agriculture

Rural Development

Agricultural Finance

Agricultural Cluster & Value Chains

Food Quality Infrastructure
Hydroculture and Crop Sciences, Ryazan Agricultural Institute, Russia

Agronomist, Ryazan State Agricultural University, Russia
A trained Agronomist and Agricultural Expert with over  20 years of experience in central Asia, Mr. Salimov has implemented and managed agriculture and rural development related projects for numerous international finance organisations, including the World Bank, USAID, Asian Development Bank and the UN.
Mr Salimov is heading the central Asia office of Luvent Consulting GmbH and is a trusted agronomist and specialist in rural development to many international donors.
Mr Salimov is a researcher at the Department of pasture and animal feed at the Tajik Academy of agricultural sciences and focuses his research on sustainable and climate resilient pasture and animal feed.