Konstantinos Foutzopoulos-Lios
Director International Business Development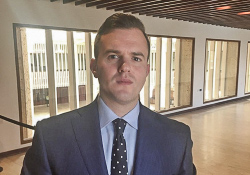 Strategy and policy development

Economic and Political analysis

International relations and public policy

Strategic communication

Stakeholder network management
Master in European Studies, FU & HU, Berlin, Germany

B.Sc. in International Economics, AUEB, Greece
Mr. Konstantinos Foutzopoulos-Lios is an international relations expert with extensive experience in international development, public affairs and strategic communication. Mr. Foutzopoulos-Lios consults governments, the private sector and institutions such as the United Nations, the European Commission and the World Bank. He is specialised in public policy, strategy development and intelligence analysis.
With working experience in over 70 countries, Mr. Foutzopoulos-Lios has established an extensive network of contacts in national governments, regional institutions, political parties, interest groups, the private sector and the civil society. He has been involved in large scale regional and international projects in the fields of energy security, poverty reduction and sustainable development.
He is fluent in Greek, English and German with knowledge of French and Russian.